the fundamentals for nacka city
The Fundamentals lay the foundation for our view of the emerging city. Through the Fundamentals, we have set out the concept that will lie at the heart of urban development in Nacka City. We want to create the physical conditions for urban life.

The Fundamentals will always steer and guide our development of the city. Typically, a city offers public space that everyone is entitled to use. A city typically also features a constant flow of people. Accessibility and communications are critical to these urban flows. Urban life occurs in the interactions between residents, local workers and visitors – interactions that are crucial for the city's development. It is through our history and our cultural environments that we establish cohesion. The city is a single whole. Nacka City rests on seven Fundamentals. These are basic, innovative and brief. The whole of our city is to be built on these Fundamentals and adapted to their approach.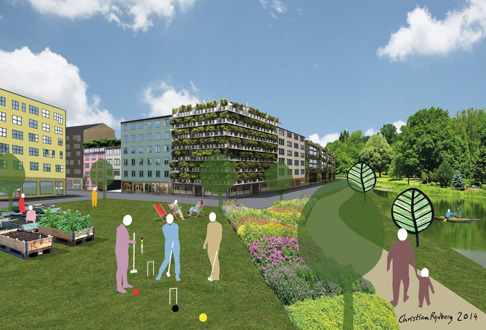 COHESION
URBAN SPACE
CITY STREETS
URBAN GREENERY
NEIGHBOURHOODS
STREET FURNITURE
CHARACTER